> Minerals
Crandallite, Phosphosiderite
Item number: MINS5095
Format: 35 (the sample fits or fills up the box of 55x51x25 mm. Sample might be little higher)
Size: 49x33x32 mm
Weight: 49 g
Locality: Paton Hill, Paton Brook, Tierra Amarilla, Copiapó Province, Atacama Reg., Chile

Nodule of intensely pink phosphosiderite with whitish crandallite. Botryoidal, kidney-like and spherulitic aggregates of cryptocrystalline phosphosiderite forms the nodule. "Veins" of yellowish-white, earthy crandallite are embedded in deep furrows around subspherical aggregates or form fine coatings on their surface. As a result of the arid climate in the Atacama Desert, dehydration of crandallite occurs. The intensely yellow crandallite fades to white. Most of the back of this specimen is covered with crandallite. With its bulbous microcrystalline structure the phosphosiderite from Atacama reminiscent of the Destinezite from the type locality Argenteau in Belgium or those classic materials from Hloubětín, part of Prag in Czech Republic.



In stock.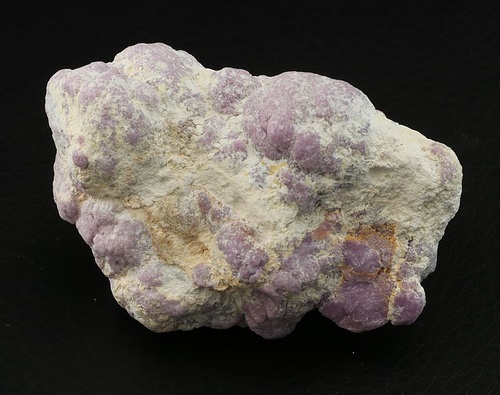 Open extra large image