Rock pick hammer FORGECRAFT- small (NEW EDITION)
Item number: H42
Weight: ca. 800 g

This rock pick hammer with point tip made by FORGECRAFT comes at an exceptional reasonable price and  enjoy great popularity among geology students. Like similar hammers by ESTWING, this hammer was forged in one piece of steel so that head and handle are optimally bonded.
If you are interested in buying larger amounts, for example for your course,company etc., feel free to ask us for special conditions. 

 
Handle length: about 260 mm

weight: about 800 g

Rockwell-hardness: 53

bending / break strength: > 330 kg

Plastic grip
Please note that picking extremely hard rocks like quartz may harm all kinds of steel hammers (Mohs hardness of steel 5.5 - 5.6)
In stock.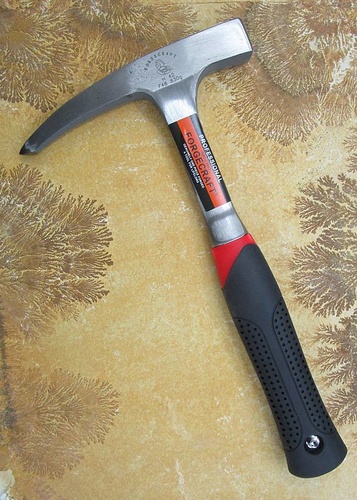 Open extra large image