TOPGEO Rock Pick, hickory handle, 750 g
Item number: PH25

Classic pick hammer with hickory handle for geologists. Low price combined with good quality make this hammer ideal for students and collectors who search a hammer for occasional use. For intensive work we recommend to have a look at our offered FORGECRAFT or ESTWING hammers. 




We are sure our TOPGEO hammer will please you as in the following customer's voice (24 Jan 2016): 

Dear gentlemen, I'm geotechnical engineer with 36 years of experience. Recently I purchase from your site a geological hammer pick point with wood handle. My impression is full positve under test and I wont say: The best hammer ever product was the Stanley geological hammer in version 16 and 24 oz. But it's out of production from twenty years. Estwing hammers are very strong for the clivage operation but is full unbalanced and the steel quality is to soft. Same impression for the Forgecraft hammers. The Visa english geological hammers are good balanced but the steel quality is not the best. I want confirm that your geological hammer pick point with wood handle is actualy the best, good steel quality and good balance, the best compromise about these two factor. I want propose to purchase it to your customer, for hobby use and for profesional application. The quality was a little less respect the old Stanley hammer but, as I said it is about of production from long time. So your hammer is, my professional opinion, the best actually in the market. Thank You for your cooperation. Best regard Giancarlo, geotechnical engineer. 
Handle size: 290 mm
Head weight: appr. 700 g (24 oz)
Head length: 205 mm

Impact surface: 25x25 mm
Chisel width: 35 mm
Total weight: appr.800 g

In stock.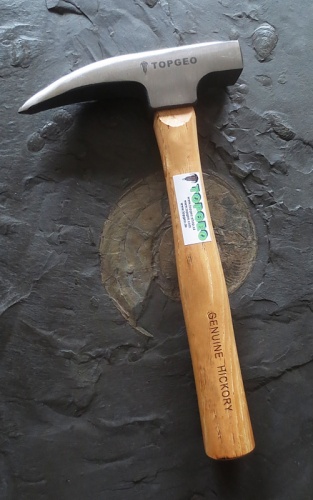 Open extra large image