Zebra Rock (Argillite)
Item number: LM220
Size: 106x52x9 mm
Weight: 86 g
Locality: Ord River, East Kimberley, Western Australia, Australia

 The unique Zebra rock or Zebra stone has been placed at 670 million years in the late Pre-Cambrian period.  The only known deposits in the world have been discovered in the East Kimberleys, Western Australia. The Zebra rock forms lenses and seams close to the Ord River within the Johnny Cake Shale Member of the Ranford Formation.  This distinctive reddish-brown and white-banded sedimentary rock -argillite is composed essentially of small particles of quartz and sericite, also kaolinite, dickite and alunite.  The color banding of zebra rock has probably being formed by the rhythmic precipitation of iron oxide rich bands during the alteration of the rock by migrating fluids through the rock. Zebra stone is a popular as ornamental stone for carving, paper weights and figurines. The stone´s unsurpassed natural beauty typifies the color and spirit of Australia.  

 A zebra stone is easy to work with, but it cannot be polished. The glossy finish can only be achieved with a coat of lacquer. 

 PROCESSING: lacquer coated slab





In stock.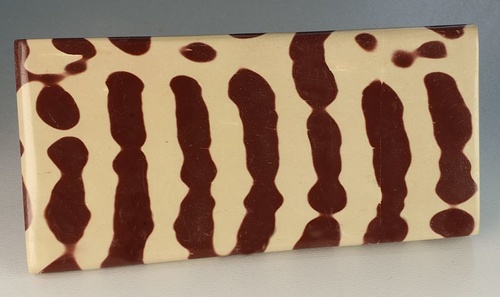 Open extra large image